As hopes of the country reopening following the pandemic of COVID-19 slowly begin to solidify, it is more important now than ever that Americans go about this responsibly. That's why many business owners are turning to disinfecting services and products to provide them, their employees and their customers with peace of mind and good health. Frequently used and increasingly popular disinfecting product, commercial grade hydrogen peroxide is being used now more than ever for its effectiveness and natural break down.
Why Hydrogen Peroxide?
Hydrogen peroxide is a natural substance that decomposes to be nothing but air and water. Many times alcohol is used in place a of hydrogen peroxide, however the downfall to this disinfectant is that it leaves behind chlorine residuals. With that said, hydrogen peroxide provides the most natural and basic solution to eradicating COVID-19.
Is Hydrogen Peroxide Safe to Use?
A 6% grade Hydrogen Peroxide Solution is approved by the CDC, EPA and OSHA for the eradication of COVID-19. This level of disinfectant is hard to find as it is considered a commercial grade disinfectant solution. It is known to be one of the safest, cleanest and most natural products on the marketing for virus removal.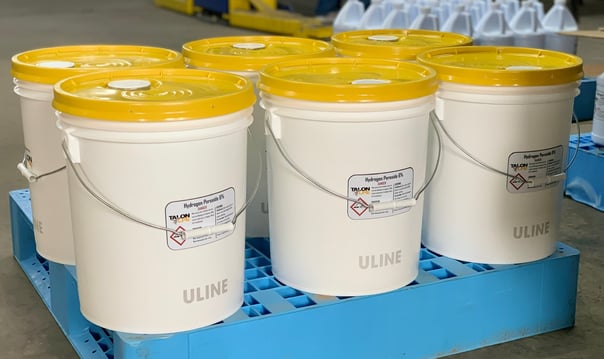 How to Use Hydrogen Peroxide for Disinfecting Services
Though wiping down high-contact areas is beneficial, it is imperative to implement a hydrogen peroxide atomizer to fully eliminate the virus. Using an atomizer helps to distribute a fine spray of hydrogen peroxide into the air, ultimately resulting in the absorption of the product into the atmosphere of an area. This results in the disinfectant solution entering areas that are frequently missed during a wipe-down.
How long does Hydrogen Peroxide Last For?
Similar to every other disinfecting product on the market, hydrogen peroxide is only effective until it has been contaminated. This means that if someone infected by COVID-19 came into your place of business after you had used a disinfecting product, your place would need to be disinfected again.
With so many recommendations and suggestions, it can be hard to find the right solution for you. At Talon/LPE, we are backed by science. Our team is comprised of environmental scientists, chemists, biologists, microbiologists, geologists, professional engineers and nationally certified professionals who have spent years researching and studying the best methods of hazardous cleanup. 6% Hydrogen Peroxide is not only a CDC, EPA and OSHA approved disinfecting solution, but it is also the cleanest and most natural product to use when trying to eradicate COVID-19. Talon/LPE offers this disinfecting solution. Eradicate COVID-19 with our Hydrogen Peroxide solution and contact a hazardous response professional at Talon/LPE today to purchase your own!