Texline School is undergoing a remodel during the months of June, July and into August. Talon/LPE is currently reroofing the entire school, replacing all HVAC units, ceilings, lighting and remodeling the bathrooms throughout the school. Though this project should typically take up to four months to complete, Talon/LPE is working around the clock to have this project completed in just two months, so that school can be up and running for kids and teachers alike in August. Similar to this project, remodeling a business can be just as difficult.
A Commercial Remodel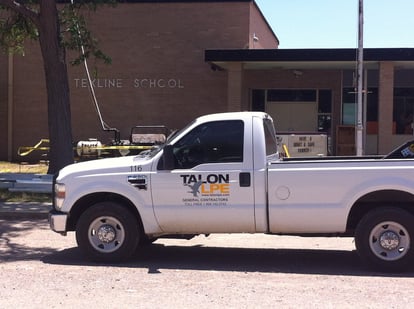 Owning and operating a business is hard enough, much less when you add remodeling to the mix. Many businesses choose to close down a business during a remodel, however this can be costly, as going without revenue for even the smallest period of time can add up. There are many things to think about when planning your remodel, but the most important of which is scheduling. Keep these things in mind as you prepare for your next big project.
Timing
Several factors go into remodeling your business, but one factor prevails as it deals directly with your revenue. When looking to remodel, always evaluate your busiest time of year and avoid that time at all costs. If you have to shut down your business for construction, closing during peak business times would hinder your revenue. Typically, the slowest time of year is the best time of year for large construction projects that cause you to close your business. Some businesses revenue increases during a remodel. Retail for instance, customers visually see things happening in your store and may want to check it out. Work can continue so long as a clean & safe atmosphere is provided for the customer. Consider all possibilities when remodeling your place of business
Weather
It is also important to take into account the weather. If your slowest time is during the winter, it is important to take into account delivery of materials, as poor weather could lead to delays and further stall re-opening. Weather such as snow or rain can also delay exterior projects like a new roof, façade, painting or concrete work. Planning for poor weather days could save you time or allow for better time management.
A commercial remodel can be expensive though is doesn't have to be, the return on investment once complete is maximal. Your facility is a direct reflection of your products and services. Therefore, it is crucial that it is well maintained and running proficiently. Call Talon/LPE today to get started planning your next remodel. We'll work with you to make sure your project is completed on time and within your budget. We look forward to building a relationship with you.