Several months ago, Amarillo, Texas received an ice storm that engulfed the city's roadways. This storm even led one semi-truck careening over the highway and into the Outback Steakhouse at I-40 and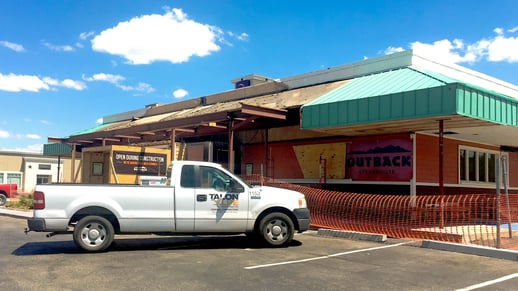 Coulter. Thankfully, no one was hurt during this accident, but Outback did however sustain a significant amount of damage. Though the restaurant was fully operational after several repairs, a couple of remodels and a few weeks of Talon/LPE's construction efforts, Outback Steakhouse knew more renovations were around the corner and wanted to wait for better weather to complete the full remodel. With that said, efforts are now underway to give Outback Steakhouse a new look, with a complete exterior remodel.
Is An Exterior Remodel Worth It?
The exterior appearance of a business determines whether or not a customer will head to your competitor's location or if they will stop at yours. Having a fresh appearance that is clean to the eye intrigues customers and validates their trust in you and your products or services. This encourages them to visit your location, as opposed to your competitor's. Furthermore, an exterior remodel can occur while a business is still in operation. For example, Outback Steakhouse is fully functioning and open for business while it is undergoing remodels on the outside. This allows for the business to still bring in revenue and still keep their same loyal customer base.
This type of work is something that Talon/LPE has a tremendous amount of experience in. If you're considering an exterior remodel for your business, contact Talon/LPE using the button below. We look forward to building a relationship with you.