At Talon/LPE, we've worked hard to find a solution to stop the spread of the coronavirus. Our disinfecting services, hydrogen peroxide disinfecting solution and our hand sanitizing products have been sold to businesses throughout the Central United States. Our goal is to keep as many people safe and healthy as possible through out this pandemic. This applies to both our communities, and our employees.
Our employees work on the front lines every day, disinfecting businesses where COVID-19 has been present, was suspected or is trying to be prevented. In full PPE, our teams work hard to ensure their safety on job sites, as Talon/LPE's ultimate goal is to send each of our staff members home safely to their families at night. As selfless and honorable as our employees may be, many of our them have taken it a step farther and are working to flatten the curve in their free time, from their very own homes. Here's what they're doing to help stop the spread of the coronavirus.
Candy Sanders, Accountant of Amarillo, Texas
My family and I are flattening the curve by staying home to watch our church services via live stream! We even dressed in our best for Resurrection Sunday services in the living room. So very grateful that this virus has no bearing on the fact that the Savior is risen and the tomb is empty!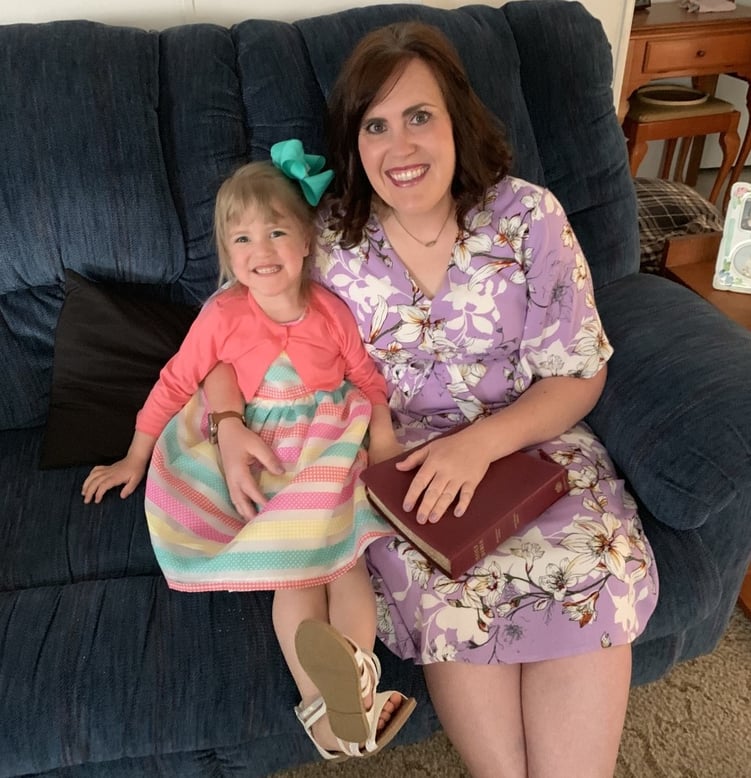 Matthew Byram, Environmental Scientist in Midland, Texas
We are trying to stay home as much as possible, at least when I'm not going back and forth to work. On the weekends we try to only go out when necessary. My wife works in the medical field but recently had to quit her job, her office decided not to take part in the Covid 19 financial assistance for the schools closing down. She stay's home with our two school aged children since we have no one else to watch them. They get to spend their days sleeping in and working on school work that teachers provide. They now do a lot of arts and crafts while getting plenty of screen time via tv or mommas phone. When they were in school they didn't see each other most of the day except at home, but now they are together 100% of the time so arguments and bickering happens a lot during the day. Our dogs get to go on plenty of walks now. If we do go out and about for groceries or other items the kids look like they are surgical doctors wearing masks and gloves.
Sandy Jefferson, Safety Director in Amarillo, Texas
We are staying home. And I'm making masks for my family. My sister/cousin's (raised with me and my sisters) birthday was last weekend. We did meet, but there were only 7 people and we were at least 7-10 apart in her backyard. Everyone entered from the back gate with masks and gloves, which did not come off until everyone was sitting and separated. It was the best day since this all started.

At Talon/LPE, our employees are more like family. We are more than proud of the efforts they are putting forward to help not only Talon/LPE succeed, but also to help their communities succeed. You, too, can join us in the fight to stop the spread of COVID-19. Here's how you can help.
Disinfect Your Business
As plans of the United States reopening begin to formulate, it's important that we do what we can to prevent another major outbreak. Disinfecting businesses will do just that. Through our disinfecting service, our employees utilize a fogger to spray a commercial grade hydrogen peroxide disinfecting solution in the area. This all natural solution works to disinfect the area and to eradicate COVID-19 from the business. You can learn more about this service here.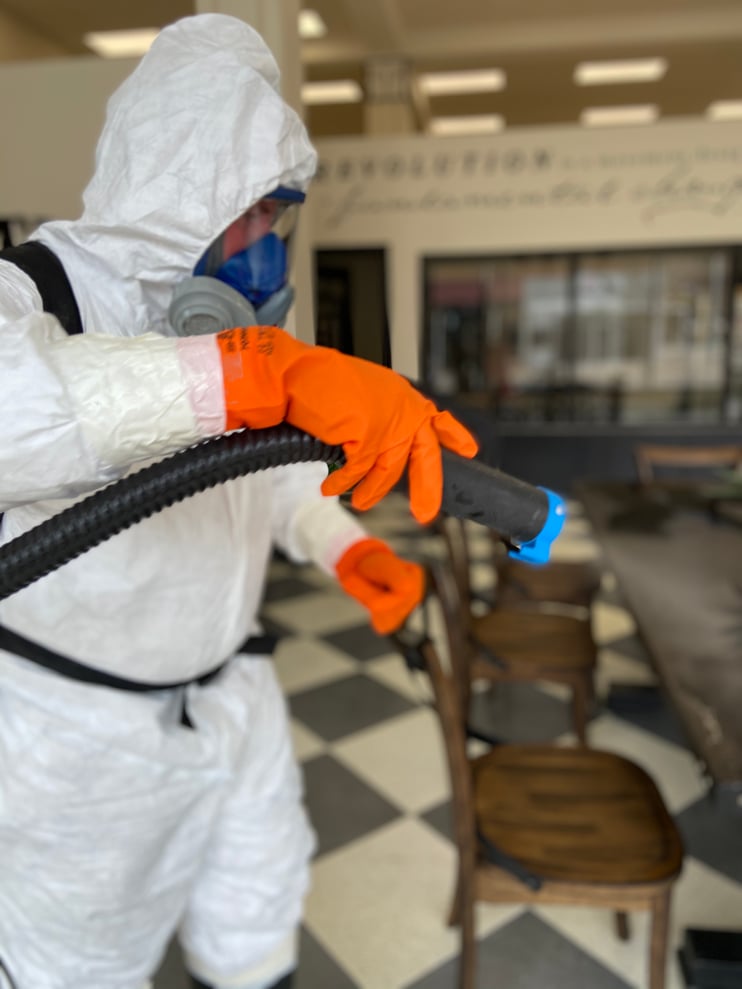 Use a CDC, EPA and OSHA Approved Disinfectant Solution
Our commercial grade 6% hydrogen peroxide solution offers a clean and natural approach to disinfecting. This disinfecting solution is typically sprayed on high-contact areas and is used to eradicate the presence of the coronavirus. Unlike many disinfectants currently used, this product dissolves naturally leaving behind only water and air. These products can be purchased at a multitude of retailers, and at any Talon/LPE location.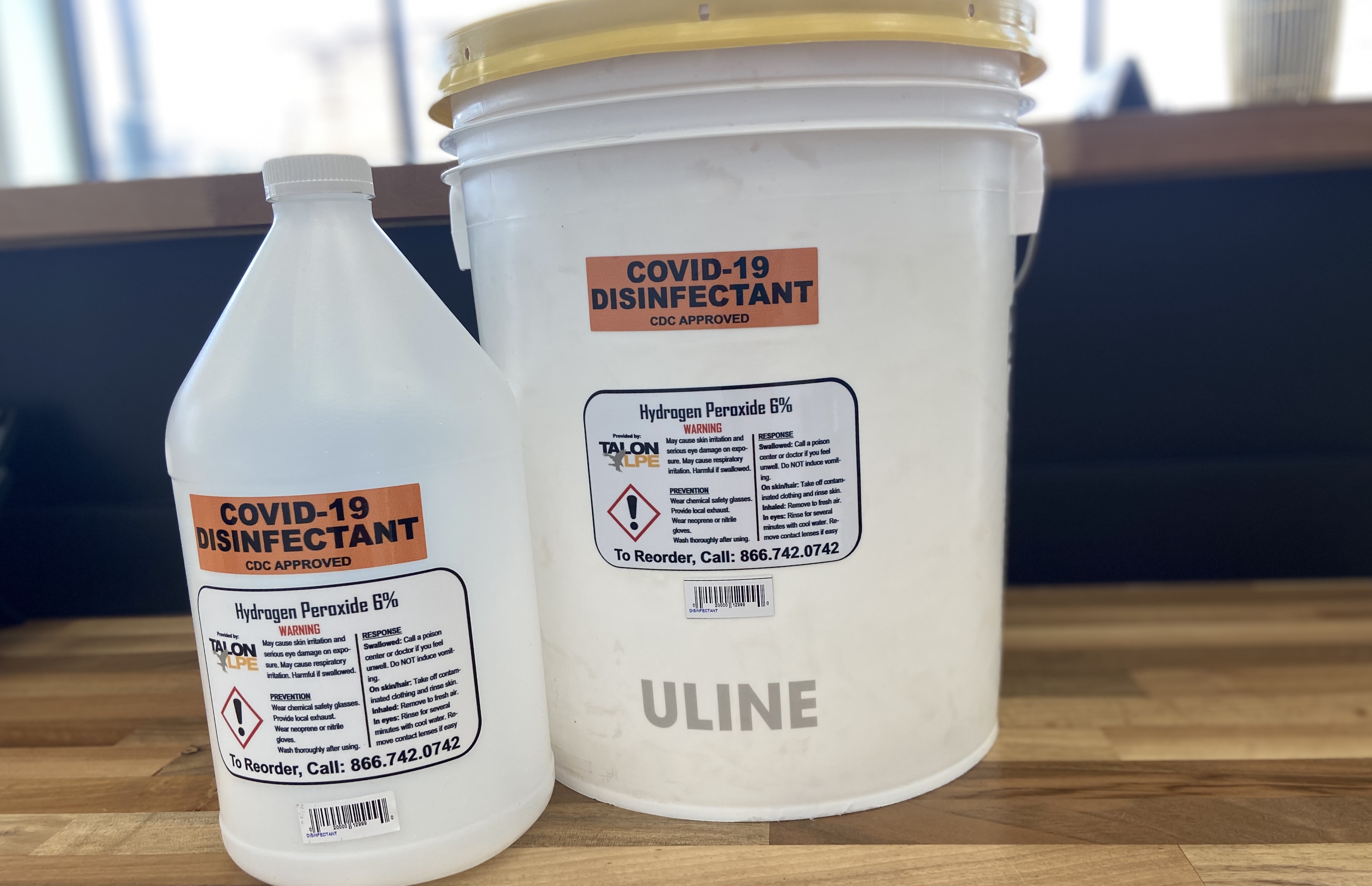 Use Hand Sanitizer
Though washing your hands is always recommended by the CDC, it is not always a method that is readily available. Talon/LPE's hand sanitizer is comprised of 75% alcohol and is manufactured in an FDA Approved Laboratory. Made in Texas, this hand sanitizer comes in a liquid form, making it more effective, as all ingredients used in a gel composition are eliminated. Supplies for our hand sanitizer products are very limited. These products can be purchased at a multitude of retailers and at any Talon/LPE location.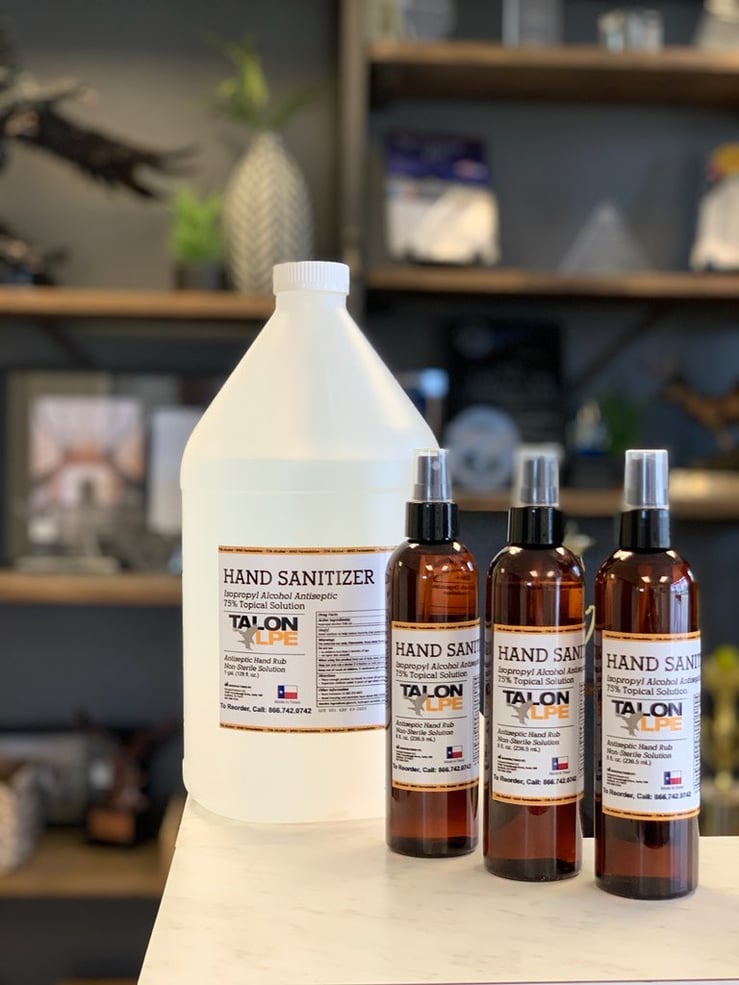 Sell our Products
We are currently looking for well connected and highly motivated individuals from all over the Central United States to help sell our products. From the comfort and safety of their home, these individuals can turn their relationships into income by informing the public of how Talon/LPE is flattening the curve, and how they can, too. You can apply to be apart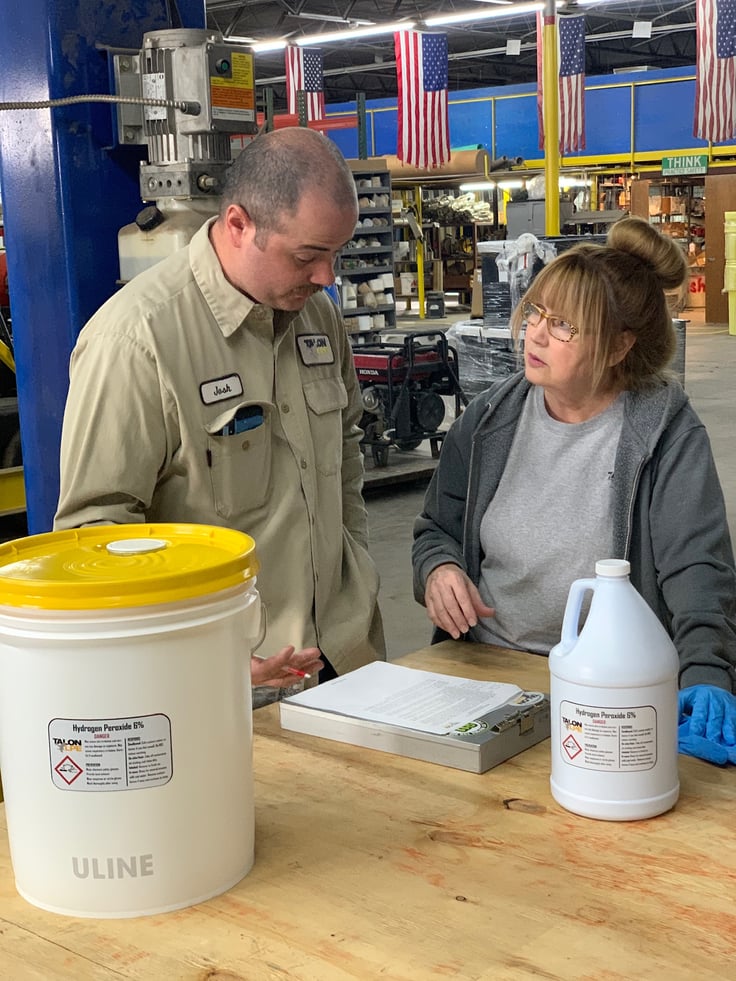 of the movement here.
At Talon/LPE, our ultimate goal is to provide our employees and our communities with the tools they need to be as safe as possible. With offices located in Texas, Oklahoma and New Mexico, we work hard to deliver this level of safety through our disinfecting services and products every day. Help us flatten the curve and learn more about what we're doing through the button below.