The reasons clients need the help of an environmental drilling company vary a great deal. Sometimes they need to find out if there are contaminants in the soil on a piece of property. Other times, they need to find out what the geological landscape looks like down below. The drilling project will differ based on the needs of the client.

Two of the most common projects are investigative soil borings and geotechnical borings. While they seem much the same to a casual observer, the way the borings are taken and the reason they are taken are quite different.

Investigative Soil Borings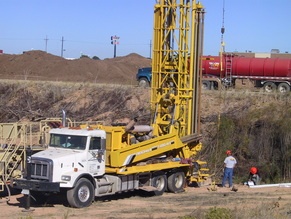 Some environmental drilling projects are focused on finding out what might be in the soil, instead of what the soil structure is. These are investigative soil borings. This is the most common kind of sampling taken by engineers and geologists.

With investigative borings, the sample is often disturbed by the sampling method. That means the soil can be a mix of soils from different levels. This kind of boring looks at soil texture, moisture content, and the kind of soil. It can also be used to look at soil's nutrient and contaminant levels.

Sampling near the surface is easy with a hand auger or a backhoe. For greater depths, a drilling crew will use an auger or other drilling method to get down to the desired depth. Samples can be taken with a split spoon or other extraction method.

Geotechnical Borings

When it is critical to know what the soil structure looks like down below, a geotechnical boring is the appropriate method. This method requires digging a bore hole with as little soil disturbance as possible.

With geotechnical borings, the choice of sampling method is critical to getting samples that are as undisturbed as possible. That means the soil samples are as representative of the level where they are taken as possible. This kind of boring helps engineers and geologists know about the soil bearing pressure, the active soil load, the location of the groundwater table, and the characteristics of each layer of soil. This kind of sampling is often done on building sites and places where finding groundwater depth is critical.

Common sampling methods for gaining geotechnical borings include long split-spoon or piston samplers.

Which One Do You Need?

If you are working with a geologist or engineer, that person can advise you on whether you need an investigative boring or a geotechnical one. However, you need an experienced drilling company to do the work for you.

Contact Talon/LPE Drilling Services. We have decades of experience drilling in Texas, New Mexico and Oklahoma.