Dust containment systems are designed to collect airborne contaminants as they are produced via air rotary drilling methods. These can include dust particles, dirt, rocks and any earthen material. As the dust and debris is agitated and becomes airborne, large hoses are used to collect and siphon it through a large filtration or cyclone system. As it passes through the cyclone system, the solid pieces are trapped and contained in a storage unit or drum until they can be properly disposed of.

The Environmental Protection Agency has put in place strict guidelines and regulations environmental drilling companies must comply with in certain areas and on certain projects. The regulations are designed to protect the environment around the drill site from hazardous waste and any negative impact caused by the drilling process.

What Type of Drilling Procedure Calls for a Dust Containment Unit?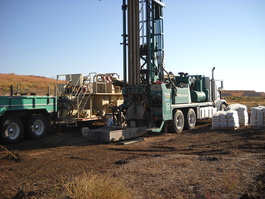 Several types of drilling methods are used by environmental drilling companies when installing soil borings and groundwater monitoring wells. Air rotary drilling methods are normally much faster than mud rotary.

However, air rotary drilling does have its disadvantages due to depth and sloughing of unconsolidated deeper formations. A properly installed dust containment unit can help increase safety and contain hazardous waste being generated by the drilling process. Safety is enhanced by increasing visibility, utilizing a cyclone, during the drilling process and allows workers to see more efficiently as the project moves forward.

Who Can Properly Install Containment Units?

A properly installed containment unit not only protects the environment from waste and contaminants, but it also contains it so it can be safely moved from the area and disposed. Several examples are presented below:


Prevents dust and debris from entering the atmosphere near the drill site
Helps drilling companies reduce their impact on air quality and other aspects of the local environment
Brings companies into compliance with federal and state guidelines and regulations pertaining to the environment

If you have any questions about when a dust containment system is needed for a project or how to use one efficiently, call Talon/LPE. Their technical professionals can offer assistance in choosing the right type of containment system for your specific drilling job in Texas, Oklahoma or New Mexico. With offices in Amarillo, Midland, San Antonio, Texas; Artesia, New Mexico; and Tulsa and Oklahoma City, Oklahoma, Talon/LPE is highly experienced and knowledgable about the geology and soil types in a variety of areas.