Talon/LPE's Oklahoma City office was established in 2011 and is home to seven Talon/LPE employees. One of these employees is especially invaluable to Talon/LPE, as his work ethic, leadership and talent stands out. Tobey Heater is the District Manager of the Talon/LPE Oklahoma City office and because of all of this, we've decided to feature him in this month's Employee Spotlight!
What is your favorite thing about working for Talon/LPE?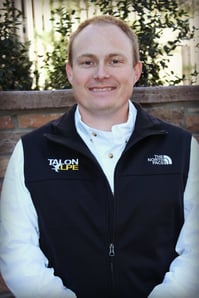 I enjoy working at Talon because of the great sense of team. Whether it is our office in Oklahoma City or Talon as a whole, we work together for the common good. I am a big believer of the phrase, there is no I in team and that every office strives to support each other. Because of this team mentality, even the worst of tasks are not too bad as you have someone shoulder to shoulder to accomplish the goal.
What brought you to Talon/LPE?
I came to Talon for the challenge of continuing to build an office. I am a problem solver by nature and get bored if there's not a problem to crack. Part of that comes from having thick skin and a hard head. Life doesn't always work out the way we want but it is by faith we must walk. I came with the faith that I could make a difference in an organization and be a part of something bigger. Sometimes the challenge seems to be an uphill battle but at the end of the day we just need to keep pushing forward.
Out of our 10 principles, which one do you value most? Why?
Out of the ten principles, I value Principle #6 - Fun the most. Life is too short not to enjoy what you do day in and day out. I want the people I work with to enjoy their job and what they are doing. Having fun increases productivity, creates more opportunities, and tends to yield a better work product. Having fun is always tempered by the task at hand, buckling down and working together to complete a project or task. I strive to find the good in every obstacle and in turn find the fun.
What do you like most about the OKC Team?
The thing I like the most about the OKC team is our energy. It is contagious and helps us to continue to push forward. It is our energy that allows us to tackle unique projects and adapt to our changing economy.
What skillset do you feel strongest in at Talon/LPE and why?
I employ a democratic leadership style then provide guidance and control when needed. I feel my strongest skillset at Talon is getting the right people in place, making sure they have the resources to be successful, and getting out of the way. I am most successful when people I work with are successful. In consulting, we are asked to solve complex problems, which may or may not fit within our box. Our staff are highly skilled and know what to do and when to do it. My goal is to put the right tools in the hands of those doing the work. I strive to develop the staff's skills to make good decisions, foster relationships, and set goals that will benefit Talon and themselves.
What has been your proudest moment while working at Talon/LPE?
The proudest moment at Talon was completing the soil shredding project at the site in Watonga. It was a true team effort pulling in resources from other offices, utilizing the majority of the staff in the OKC office, and provided closure on a project that had been on-going for several years. Receiving the letter of no further action was victory for our office and for our client.
What do you like to do in your free time?
In my free time, I enjoy hanging out with my family and being outdoors. My family and I are very outside type of people and enjoy going to the lake, hiking, hunting, and anything else in nature. I'm happily married to my wife, Buffy of 18 years, and we have four daughters ranging from four years to 12 years old.