Aquifers are large underground water deposits. These large bodies of water provide us with the water we need to survive. Deep wells are drilled down into the aquifer and the water is pumped to the surface to be used by everyone in the area. Sometimes, when drilling an oil well, the piping must pass through an aquifer to reach the oil deposits nestled far below it.


History Of The Edwards-Trinity Plateau Aquifer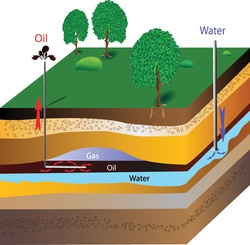 While the Edwards and Trinity aquifers feed off of one another, the Trinity recharges at a much slower rate than the Edwards. This has led to problems in the past concerning water shortages and poor water quality. The "Rule of Capture" was still in place prior to the 1990's and there were a limited number of regulations and pieces of legislation enacted to protect the state's water supply. Legislators voted to allow private landowners to establish Water Conservation Districts in 2001, which led to changes in how the aquifers were managed and controlled.

In 2001, arguments and controversy began to take shape as golf courses, both existing and proposed, began to demand water usage. Local landowners objected to the drilling of new wells for the golf courses, while they were being forced to have water hauled into their properties from outside sources.

Mid-summer 2001 saw several local water conservation districts come together in an attempt to solve some of the regions many water disputes. The water disputes became increasingly disruptive over the next few years with each side trying to gain leverage over the other. At one point in the decade-long debate, degreasers and other solvents from oil drilling operations were found in the Trinity Aquifer.

With water resources severely limited and an increasing number of conservation districts constantly at odds over who actually has the right to use the water, the area will be a hotbed of contention. Commercial pumping companies and oil drilling operations throughout the area are seemingly stuck in the middle. From 1953 to 2013, the Aquifer has went from being considered "unstable for large development" to handling the needs of millions of people involved in both personal and commercial ventures.

Contact Us

If you want to learn more about the Edwards-Trinity Plateau Aquifer, contact Talon/LPE Drilling Services today. Our trained professionals will help you understand the importance of the aquifer and why it is so important that we protect the valuable resources in our environment. It is our job to return the areas surrounding our drill sites to as close to their original state as possible. This includes above and below the ground.