For those of you who don't know, Talon/LPE was started on September 1, 1997. It is hard to believe as of today, Talon/LPE is 19 years young. What started as a very small environmental consulting firm with big dreams has become a very anomalous entity in the world of business. We know what we do in terms of services provided, awards won and clients served, but how do we compare with other small business? I started researching statistical data on small business survival rates, annual sales and employee numbers to see how we compared to similar sized firms. The results scared, incentivized and bewildered me.
I looked up survival rates of small start up businesses and found the table below. Only 22.2% of businesses that started in 1997 are still around today.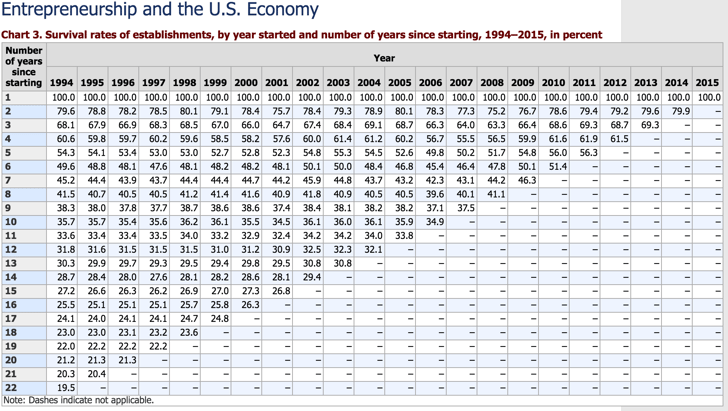 "About half of all new establishments survive five years or more and about one-third survive 10 years or more. As one would expect, the probability of survival increases with a firm's age. Survival rates have changed little over time." - Source: U.S. Bureau of Labor Statistics, BED
There are 6 million small businesses in the United States that have employees according to the Small Business Association. Of these 6 million, less than 4% have gross revenues over $1,000,000 per year. This is according to a Business Know-How survey from 2012.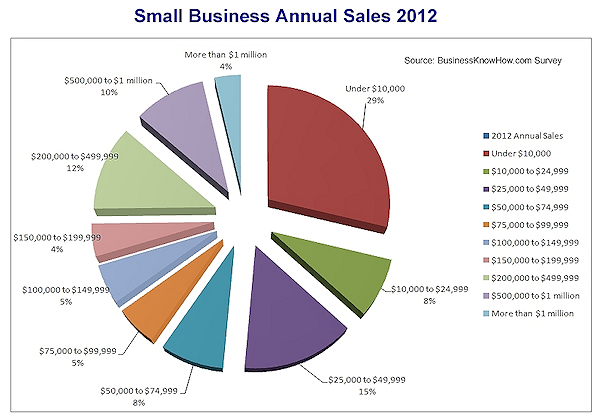 Furthermore, less than 2.8% of small businesses have more than 99 employees per the graph shown below provided by the IDC Small Business Forecast. As of today, Talon/LPE has 113 incredible team members with 7 offices in 4 states.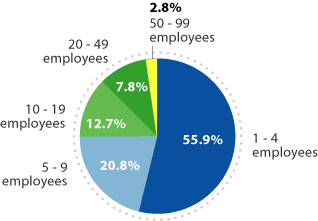 By all statistical measurements we should not have made it 5 years, 10 years or ever had over 10 employees and gross sales well over 1 million dollars. So, how have we done it? How have we not only survived, but really become a success statistically in the business world?
Is it Faith? Yes, No Question!
Is it Luck? Yes. The harder we work, the luckier we get.
Is it having the best team members? Yes. We have the best and brightest team.
Is it having good management? Yes. Talon/LPE's management has always strived to be fair, honest and transparent. A fear of debt and frugal fiscal management has allowed us to weather the storms in business the last 19 years.
Is it Customer Service? Yes. We go above and beyond every day to take care of of our clients and customers.
Is it innovation? Yes. We solve our clients and customer's problems.
It is all of these things and countless others that have allowed Talon/LPE to not only survive, but prosper. Everyone should take a moment to realize how special Talon/LPE is and how few companies ever achieve what we have. I can't wait for the future and what it holds for us.
"If the employees come first, then they're happy. A motivated employee treats the customer well. The customer is happy so they keep coming back, which pleases the shareholders. It's not one of the enduring great mysteries of all time, it is just the way it works." -Herb Kelleher
To the Talon/LPE Team: Thank you for what each of you have done and will do. But more than anything, thank you for being a part of something special (even if we are an anomaly).
Happy Birthday, Talon/LPE.
David