Talon/LPE was among the hazmat response teams Tuesday, September 1, 2015 in Hall County just outside of Childress, TX in North Texas when a truck tanker-trailer carrying hazardous material overturned in the median and spilled hazardous material onto US 287.
Approximately 2,000 gallons of a hazardous material used in the manufacture of PVC pipe spilled. The spill covered the ground, roadway, truck, asphalt and guardrail.
Officials issued a voluntary evacuation order for areas within half a mile of the scene when first responders reported breathing difficulty and burning eyes requiring medical attention.
Responding agencies included TXDOT, TCEQ, DPS, Hall County Sheriff, Memphis Police, Memphis Fire Department, and Hall County EMS.
Our Team
Talon had 18 people on the site from 4 different locations: Artesia, Midland, San Antonio, and Amarillo. They worked from Tuesday around noon until Thursday at midnight.
Normally, a clean-up would not have lasted that long except that the truck rolled three times and the hazmat team had to decontaminate the truck pieces after they broke them apart. Then they had to have a special transport for the truck and the 14 - 330 gallon containers. Next the crew had to clean the road and bar ditches. Adding to the problem was the heat of the Texas summer season.
It was a mess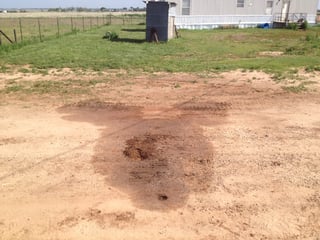 "It was a mess – that's the technical term!" Sandy Jefferson, Corporate Health & Safety director for Talon/LPE, said. "If it were not for our personnel, we could not have got it done."
"We had all the right people and all the right equipment. Once we got started, it all fell into place," she added.
We at Talon are very proud of our team of dedicated personnel and how they handled the situation. Our team's dedication and willingness to do the job the right made a difference in this North Texas town.
If you need Environmental Consulting, Environmental Drilling, Air Permitting, Spill Management, Oilfield Construction, Environmental Engineering, Safety Training or General Contracting services, contact us at Talon/LPE. We work throughout Texas, Oklahoma, Colorado, and New Mexico. We also offer safety and training classes.