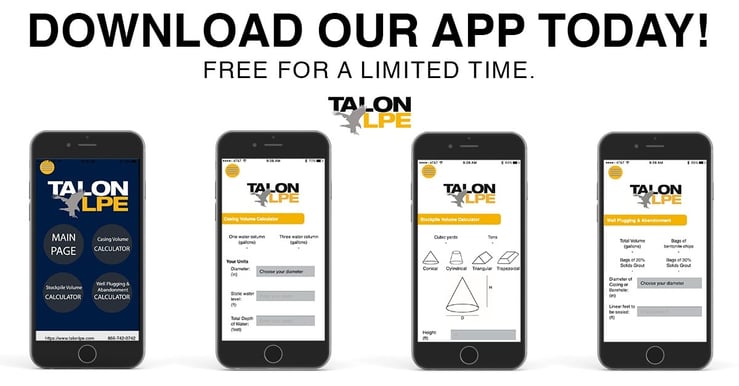 Talon/LPE works hard to make your job just a little bit easier! That's why we've created an app for your everyday field use.
The Talon/LPE App simplifies field calls, saves time, removes human error and is conveniently located on your mobile device. It will make in field calculations for things like soil volume, excavations, back filling and even multiple environmental applications for soil and groundwater. Better yet, it's free!
What's Included
Currently the app features three calculators:
Casing Volume Calculator
The Casing Volume Calculator is used to calculate how much groundwater needs to be removed from a groundwater monitoring well before that should be sampled per the Environmental Protection Agency (EPA).
Stockpile Volume Calculator
The Stockpile Volume Calculator consists of four common geometric shapes. This calculator will help to estimate excavated soil volumes and approximate weight for the purpose of disposal, treatment, or for backfill.
Well Plugging and Abandonment Calculator
The Well Plugging and Abandonment Calculator shows how much grout or bentonite will be needed to plug a well.
At Talon/LPE, we are simply trying to help our clients work smarter, and not necessarily harder. We want to provide this calculator as a service to the 75,000 environmental professionals in the United States and take the monotonous tasks in the field and put them into one app.
In the future, we aim to provide a Reportable Quantities Calculator, a Transportation Estimator and much, much more! However, this calculator is free for a very limited amount of time. Download it today to get it for free!