Hazards are present at every drilling site including what you cannot see underground and what you can see above ground. Attention to safety details during project planning will be well worth the time spent when everyone leaves the site healthy, safe and your project goals are met. As the saying goes, better to be safe than sorry. When installing soil borings, please note of the following safety procedures.

What are soil borings?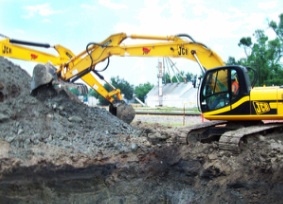 Soil borings are installed to examine subsurface soil types, determine the presence of contamination and to determine the depth to groundwater. For environmental projects the objective is to determine the type and concentration of contamination present and whether remediation or additional assessment is needed. Examples are petroleum hydrocarbons at gas station properties, toxic metals or organic chemicals at manufacturing facilities, vapors such as methane or hydrogen sulfide from solid or hazardous waste landfills.

Whether you are working with a clean or contaminated property, you will want to consider several aspects of safety on your drilling project. Some safety aspects include use of newer and correct equipment, site physical attributes, worker and consultant safety, and care of the soil and groundwater samples if they are collected.

What kind of safety should be implemented?

Your selected drilling company should have good drilling safety procedures and a good safety record. Personnel should be well-trained in proper care and use of their equipment. Good safety procedures cover everything from driving the equipment to and from the site (mob and demob), rig set-up, personal protective equipment (PPE), raising the mast, operation of hydraulic systems and hand equipment, and cleanup (decontamination) at the end of the job. Choosing a drilling company that has the right drilling equipment for the project is essential to project success.

What about site safety?

By law you must schedule a utility locate (call 811) before beginning your project to avoid drilling through underground water, sewer, fuel or power lines. Overhead lines are dangerous so make sure that boring locations are well away from them so the Drilling Rig Mast does not come into contact with them. Sloping and/or soft ground should be identified. A pre-drilling site visit can identify these types of hazards and may require the use of alternative drilling equipment.

What about worker and consultant safety?

OSHA (Occupational Safety and Health Act, 1970) and its regulations at 29 CFR (Code of Federal Regulations) provide guidelines for jobsite safety. Workers and consultants in the environmental field need initial 40 hour OSHA training then annual 8 hour HAZWOPER refreshers.

Training covers regulations, physical and chemical hazards, appropriate PPE to use and monitoring the work area to alert to potential chemical exposures. Consultants should have project Health and Safety Plans to identify what chemicals may be present, what PPE is best and where the closest emergency services are located. Consultants need to constantly be aware of their surroundings at job sites.

Safety of personnel is the most important aspect of any project but you should also consider the care of the soil and groundwater samples. Cross contamination from site equipment and handling can and should be avoided.

Contact Talon/LPE for your next environmental drilling project. There are countless soil types and geologic formations throughout Texas, and Talon/LPE has completed numerous soil boring projects across the Lone Star State. We are experienced drilling experts serving Texas, New Mexico and Oklahoma.