Serious health and safety hazards are present during the construction and installation of groundwater monitoring wells in Texas. These hazards range from toxic chemical exposures to physical hazards such as electricity, subsurface subsidence, struck-by and fall hazards. To prevent and control the exposure sources at a worksite, personnel must be protected by a well thought-out and enforced site health and safety plan. Designing such a plan is the responsibility of the employer and is regulated by the US Department of Labor's Occupational Safety and Health Administration.

What Safety Procedures Should be Implemented?

The design of a health and safety plan starts with first finding a qualified and trustworthy professional who is competent in designing such a plan. From that point, the professional will begin by identifying all potential hazards on a job site, including both chemical and physical hazards. These range from noise, to electrical, to airborne particulate matter. After identifying all potential exposures, a health and safety plan can be designed. The plan should be in writing and communicated and agreed upon by all personnel prior to any work being started at a monitor well installation site.

Some basic components of a monitoring well installation health and safety plan include:

Utility Identification and Mark Out: Identifying and delineating the location of underground utilities will prevent electrical hazards, conduit and pipe breaks and other underground hazards that could be impacted by drilling. You must always use the 811 Safety Call prior to drilling.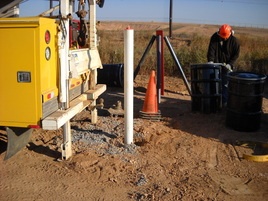 Chemical Exposure Determination: Contaminants of concern should be know to some extent through a historical review of the site. When known toxic chemicals may be present, engineering controls, work practice and personal protective equipment must be tailored to address same.

Personal Protective Equipment (PPE): There are several basic PPE elements for every environmental drilling site. These include: work gloves, hard hats, safety glasses and steel toed boots. Ear plugs should be worn during drilling.

Respiratory Protection Program: In some cases, respiratory protection is required depending upon the environmental conditions present at a specific work site—from chemicals to dust particles, to radioactive airborne contaminants. The use of respiratory protection requires that a program be developed by the employer for personnel based upon the known exposures at the site. A program includes employee medical evaluations, respiratory fit testing and training.

Equipment Safety: All moving equipment parts and the points on equipment that can cause harm must be clearly spelled out. Personnel should be trained to know where "kill switches" are for drilling equipment in the event of an emergency.

Who is Qualified for Installing Monitoring Wells in Texas?

To ensure a healthy and safe monitoring well work site, you need to select a professional environmental drilling company with plenty of experience drilling in the state of Texas. They will know the challenges beforehand and have the means to work through just about any issue.

If you need monitoring wells installed, give the environmental drilling experts at Talon/LPE a call today. The company's goal is to give quality environmental drilling services to clients throughout Texas and the surrounding regions and provide the best in safety.