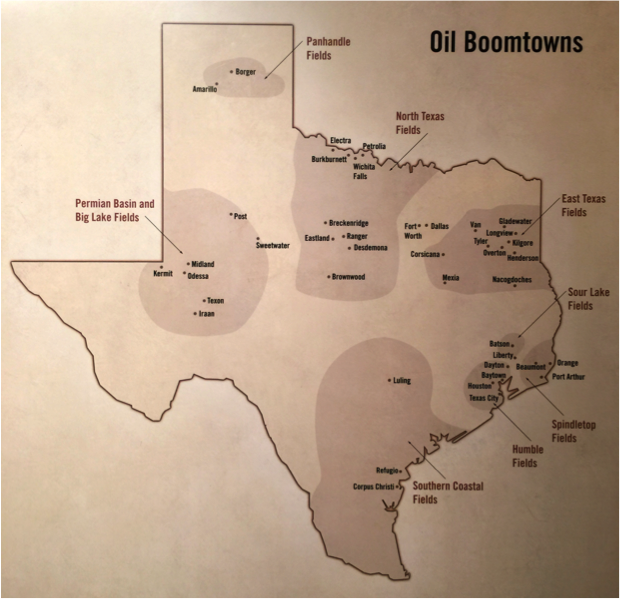 Talon/LPE is strategically located to provide environmental consulting services to historical oil fields in Texas. The above map is from a photo in The Bullock Texas State History Museum in Austin, Texas. The museum is a division of the Texas State Preservation Board and has an expansive collection on the petroleum industry in Texas.
Talon/LPE has offices in Amarillo, Midland and San Antonio, Texas along with offices in New Mexico, Oklahoma, and Colorado. The three office locations in Texas allow Talon/LPE to provide safe, professional, and quality environmental consulting services to historical oil fields and to new and developing fields. Talon/LPE has over 18 years experience working in the historical oil fields of Texas.
Talon/LPE is headquartered in Amarillo, Texas, which is located in the Northern Texas Panhandle and is near The Anadarko Basin — a historical oil field centered in the western part of the state of Oklahoma and the Texas Panhandle, and extending into southwestern Kansas and southeastern Colorado. Amarillo is approximately 60 – 90 miles away from the historical oil fields near Borger, Pampa, and the recent production areas around Channing, Canadian, and Wheeler.
Talon/LPE has had an office in Midland, Texas since 1997 and is strategically located to provide services throughout the Permian Basin. Midland and Odessa are the largest cities in the Permian Basin and serve as the regional headquarters for most production and exploration companies. The Permian Basin is located in West Texas and the adjoining area of southeastern New Mexico. It underlies an area approximately 250 miles wide and 300 miles long and includes the Texas counties of Andrews, Borden, Crane, Dawson, Ector, Gaines, Glasscock, Howard, Loving, Martin, Midland, Pecos, Reeves, Terrell, Upton, Ward, and Winkler. Talon/LPE's Midland office is located within 60-90 miles of Andrews, Iraan, Big Spring, Monahan's, Denver City, Pecos, and Snyder.
Talon/LPE has had an office in the San Antonio Area since 2002. In 2014, we bought a permanent location at 13111 Lookout Way. This location is a central point of operations for both the Eagle Ford Shale and the historical South Texas Oil Fields. The San Antonio office serves Carrizo Springs, Kenedy, Dilly, Karnes City, Three Rivers, and Cotulla as well as the entire central portion of Texas and the Eagle Ford Shale and Buda Limestone formations.
Talon/LPE is a multifaceted Environmental Services and General Contracting firm with offices in Texas, Oklahoma, New Mexico, and Colorado. Specializing in Environmental Consulting, Environmental Drilling, Air Permitting, Spill Management, Oilfield Construction, Environmental Engineering, Safety Training and General Contracting, Talon/LPE has become a respected leader in the oil and gas industry by providing our customers with safe and cost-effective solutions for their environmental and construction concerns. Working with a variety of clients, including Fortune 500 energy companies, oilfield service and industrial firms, national food chains and federal and state agencies, Talon/LPE has become nationally recognized as an innovative best in class provider. Contact us today at 866-742-0742 or visit our web page at www.talonlpe.com.