In early August 2014, the famed W.T. Waggoner Ranch was put up for sale. This ranch spans over 500,000 acres, all within a single boundary. The asking price is $725 million. This for sale sign is only the latest chapter in the storied history of this Texas ranch.

The Ranch's History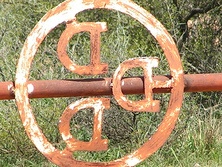 The history of the Waggoner Ranch begins with Dan Waggoner, who established the heart of the ranch in 1849. Over the next half century, Dan grew the ranch by raising and selling Longhorns. Dan died in 1903, leaving the ranch to his son, W. T. "Tom" Waggoner.

It was under the guidance of W.T. Waggoner that the modern Waggoner Ranch came to be. His original goal was to raise cattle and horses like his father did. Droughts plague this part of Texas regularly, which made running livestock difficult. To find a steady source of water, Waggoner decided to dig some artesian wells to tap into the waters below the ranch. Instead of finding water, the drill teams found oil.

Waggoner was a practical man and leased 250,000 acres to Texaco in 1909. The profits from the oil leases propelled the Waggoner family to one of the richest in Texas. In 1923, W.T. decided to create the W.T. Waggoner Estate to manage the family's growing financial empire. W.T. died in 1934. The ranch has been under the control of the Estate ever since.

The Sale

One of W.T.'s granddaughters, Electra Waggoner Biggs, petitioned the court in 1991 to have the Estate dissolved and the ranch divided among the heirs. However, the heirs could not agree on how to divide the Estate assets. That is what prompted the court to order the sale of the Ranch.

The Ranch today is home to hundreds of homes, several cowboy camps, thousands of cattle, hundreds of quarter horses, 1200 oil wells producing 675,000 barrels of oil annually, and 30,000 acres of cultivated land. The new landowner will have 42 percent share of the property's mineral rights, with the rest retained by the Waggoner heirs.

One of the biggest assets lying under the Waggoner ranch is the Seymour Aquifer. Ninety percent of the water drawn from the Aquifer is for irrigation while the rest is for municipal use in communities around Vernon, Burkburnett, and Electra. Over the past many decades, the Aquifer has seen contamination from agricultural pesticides and fertilizers, as well as brine disposal from oilfield activities.

With pressing environmental concerns, care must be taken to preserve this precious water source. If you need environmental drilling services, call us here at Talon/LPE Drilling Services. We serve all of Texas, Oklahoma, and New Mexico.