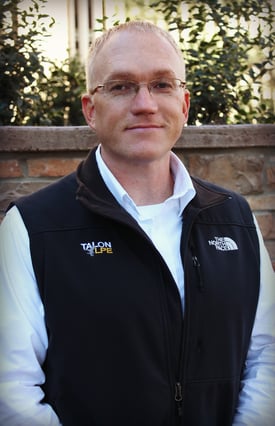 Talon/LPE's San Antonio location has been in operation since 2002. It employs over 15 people and one of those is District Manager, Jason Lincoln. Jason Lincoln works everyday with the Credo in mind and aspires to make Talon/LPE better everyday. That's why he's absolutely perfect for this month's Employee Spotlight.
1. What is your favorite thing about working for Talon/LPE?
The deeply entrenched culture of selflessness. As I was scrolling through our Employee Directory today, it occurred to me that there is not a name on the list that I couldn't call for assistance in a time of need. While we all have our roles and responsibilities, none of us hesitates to help another when needed.
2. What brought you to Talon/LPE? I ended up at Talon somewhat by chance.
I had a solid job offer waiting for me upon graduation with a small company in the oil & gas industry. Due to a downturn in the industry, the company rescinded the offer less than a week before graduation. About a month later, a former classmate mentioned that his employer (Llano Permian Environmental) was hiring a field geologist and recommended I apply.
3. Out of our ten principles, which one do you value most? Why?
Integrity. It is number one on the list for a reason. Without integrity there is no foundation to build client or employee relationships. Without integrity, you can't earn the respect or trust of peers.
4. What do you like most about the SA Team?
It's nearly impossible to narrow it to one thing, but I would say their focus on quality. It is inspiring to be surrounded by people who have a genuine desire to do their very best. They care about how their quality of work affects others and reflects on the company's reputation.
5. What skillset do you feel strongest in at Talon/LPE? Why?
Planning. I have years of firsthand experience performing just about every type of service Talon/LPE offers. Since I have a fundamental understanding of the tasks assigned to my team, I strive to address potential issues before my employees actually encounter them.
6. What has been your proudest moment while working at Talon/LPE?
I almost lost one of my employees to an act of random violence while traveling out of town for work. The amount of support and genuine concern exhibited by the entire company was inspiring. I think that incident really exemplified the fact that we are a family owned company and we treat each other like family.
7. What do you like to do in your free time?
My free time activities and interests are centered around my family. When I'm not attending a soccer or equestrian event for one of my two kids, I enjoy fishing, gardening, landscaping, and doing small carpentry projects.