Jason Shubert has been with Talon/LPE for over 5 years and has over 10 years of experience in the environmental industry. As Regional Manager, Jason works hard to ensure everyone's safety and success. That's why he's been featured in this month's Employee Spotlight!
What is your favorie thing about working for Talon/LPE?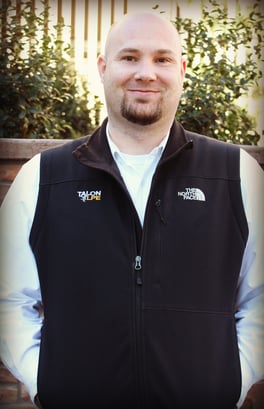 My favorite thing about Talon/LPE is the wide range of projects and clients that I have the pleasure of working with. At Talon, you never know what the next phone call may bring and this keeps things exciting and interesting to say the least.
What brought you to Talon/LPE?
I came to Talon/LPE in 2012 from the DFW area after my wife and I decided we wanted to move back to Amarillo. I had known several employees at Talon over the years and had even used them as a drilling contractor in the past. I was excited to be coming home and had always heard and experienced great things from the staff at Talon.
Out of our ten principles, which one do you value most? Why?
Of our ten principles, I value FUN the most. I love what I do and think all of our projects are fun and assisting our clients with extremely complex or even very basic projects is fun. I am of the opinion that if you don't love what you do and don't have fun with your work, you need to find a different career. We have a lot of fun at Talon.
What do you like most about your team?
I have a great team that cares a lot about Talon, our clients, and our quality of work. The thing that stands out about my team is the diversity of their projects. My team is not afraid to learn and experience new things. We have a "can do" attitude and will research and figure out how to do anything no matter how big or small.
What skillset do you feel strongest in at Talon/LPE? Why?
The skillset I feel strongest about at Talon is our field services. We have people from the top down that are not afraid to get out in the field and perform what we love to do. Anyone and everyone will drop what they are doing to get something done in the field whether it be an emergency response, soil shredding,sampling or whatever, we can get it done safely at the highest quality.
What has been your proudest moment while working at Talon/LPE?
My proudest moment at Talon was an emergency response project on Highway 287 in 2015. The chemical released was extremely dangerous to human health and personnel required respirators and Tyvek suits when responding. Within 4 hours of the initial phone call we had 7 people on site working in 100 degree heat more than two hours from our Amarillo office. Within 24 hours, we had over 20 employees from 4 offices working around the clock to get the highway opened up. Just seeing the teamwork and safety processes we put into place in such a short time was a very proud moment for me.
What do you like to do in you free time?
I enjoy spending my free time with my family. My wife and I love taking our daughter places and watching her grow up. She is a pretty big daddy's girl and loves doing anything and everything with me.