Commercial drone use has revolutionized many industries. As the FAA began issuing more commercial drone permits in 2015, we expect to see commercial drone use continue to rise. Unmanned aerial vehicles (UAVs), also known as drones, are tools used for aerial data collection. Utilizing UAVs for these types of services are typically safer and more efficient than other methods.
To use UAVs commercially requires a FAA authorization via a Section 333 grant of exemption. In effect, the FAA issues a permit for individuals or companies to offer commercial UAV services. Warning, the FAAs definition of "commercial" is pretty broad and frowns upon those who to try to circumvent their definition by doing things such as offering the drone flight for free but charging for video editing.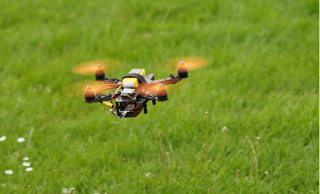 By the year 2021, commercial drone value is expected to skyrocket nearly 700% to $4.8 billion, according to a January 2015 report from Radian Insights.
"This is a sizable market growth with oil and gas mapping, utility line inspection, package delivery, and agricultural applications accounting for virtually all the unit sales," the report states."Drones can provide more information at less cost than a human inspection team can."
Do you like looking at the satellite imagery provided by Google Earth? Now imagine looking at images that have resolutions that are 5 to 50 times more than what you can see in Google Earth! Want to see individual grapes on a grapevine? Want to perform close-up inspections of a structure? Want to inspect for damages? We can do all of these tasks, and more, easily, quickly, and cost-effectively with drones.
With a minimal amount of additional effort, we can take those two-dimensional photos and turn them into three-dimensional models.
What's so great about that?
With this data, we can create topographic maps, calculate volumes, perform cut/fill balance, create cross-sectional views, and the list goes on. Using the latest technology, we are now able to broadcast live video from the drone as we are flying. So, you can see what we see... from anywhere… in real-time.
40 Uses for Drones Infographic
Stephens Planning and Design LLC created this infographic of 40 Uses for Drones—Practical applications for Unmanned Aerial Vehicles showing how UAVs are being used in both the private and public commercial sectors.
Some uses of drones in the oil and gas industry are:
Oil and Gas Pipeline Inspections
Drones already are the most cost effective type of vehicle for inspection of the endless miles of pipelines transporting gas and oil. It is very important to constantly monitor these infrastructures to safeguard against undetected leaks which can cause explosions, fires, and environmental impacts.
Because there is often a significant difference between the temperatures of fluids and soils, oil and gas leaks are clearly visible using thermal imaging. An operator flying a drone equipped with special cameras and sensors that hover at low altitudes over pipelines can send information to an assessor indicating the condition of the pipeline.
Gas Emissions Monitoring
Some unmanned aerial vehicles are equipped with highly sensitive optical sensors that monitor gas emissions over critical sites and areas too large to cover without a drone. These drones make surveying, identifying and correcting leaks a manageable job. Since there are around 500,000 hydraulically fractured gas wells across the U.S., it is critical to cut the cost of inspections and allow safe 3D mapping of drill sites, gas pipelines, landfills and other operations.
Tailing Pond Inspections
Most businesses conduct safety checks on tailing ponds with workers on foot or through expensive fly-over inspections that require complicated safety precautions. Using unmanned aerial vehicles enables the business to gather information in dangerous environments. Extreme weather conditions no longer need to be barriers for environmental inspections.
Oil Spill and Damage Detection
Oil spills are one of the most distressing causes of damage to people and the environment. UAVs can measure and quantify oil spills, are able to assess where the oil is spreading, how quickly it is moving through the water and the specific areas it has already reached with the right sensors. UAVs can measure and quantify oil spills, assess the potential spread and reach through the drone's sensors. The real-time information allows response teams to reach affected areas sooner and helps reduce remediation time that was previously spent on the damage detection process.
The future of drones in industry is assured. It's time to think about how using a drone can help your business.
If you need Environmental Consulting, Environmental Drilling, Air Permitting, Spill Management, Oilfield Construction, Environmental Engineering, Safety Training or General Contracting services, contact us at Talon/LPE. We work throughout Texas, Oklahoma, Colorado, and New Mexico. We also offer safety and training classes.