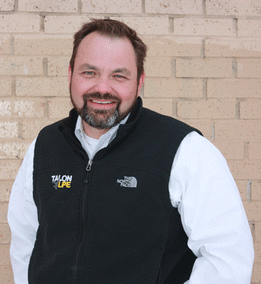 David Prescott, President of Talon/LPE, LTD, will speak at this month's Lunch & Learn at the WT Enterprise Center on Wednesday, Nov. 12.

Each month, the WT Enterprise Center invites successful entrepreneurs and business leaders to speak on various business topics, including, but not limited to, expansion, marketing, financial planning and advertising. Lunch & Learn's are ideal for networking with local businessmen and women.

In addition to founding and running Talon/LPE, LTD, David is currently serving a 6-year term as an appointee of Governor Rick Perry to the Texas Board of Professional Geoscientists (TBPG). He also serves on the Application Review/Continuing Education Committee, the Financial Review/Strategic Planning Committee, and the joint committee between the Texas Board of Professional Engineer's and TBPG.

David earned a B.S. in Environmental Science and Biology and M.B.A. from West Texas A&M University. He was a finalist for Ernst and Young Entrepreneur of the Year in 2012, and was accepted into the Fort Worth Chapter of the Young President's Organization (YPO) in 2014.

Over the years, David has served and, in some cases, is currently serving on various boards, including the Amarillo Chamber of Commerce, Golden Spread Council of the Boy Scouts of America, West Texas A&M University Alumni Association, WT Enterprise Center Advisory Board, West Texas A&M University Engineering Advisory Board, Amarillo Tri-State Exposition, Amarillo Executive Association, Amarillo Red Cross and the Don Harrington Discovery Center.

He is married to Kellie. They have two boys, Will, 15, and Luke, 12. The Prescott family enjoys being active in Boy Scout Troop 10.