Natural, technological, and man-made disasters are an integral part of our day to day existence. From the horrors of 9-11, multiple school shootings, the impact of hurricanes like Katrina and Rita, flooding in the Midwest, fires in California, and several deadly and destructive tornados in 2017 alone, preparedness and response operations are vitally important. It's also important to remember that technological hazards, such as hazardous materials incidents, household chemical emergencies, and nuclear power plant emergencies may be triggered by natural and man-made disasters.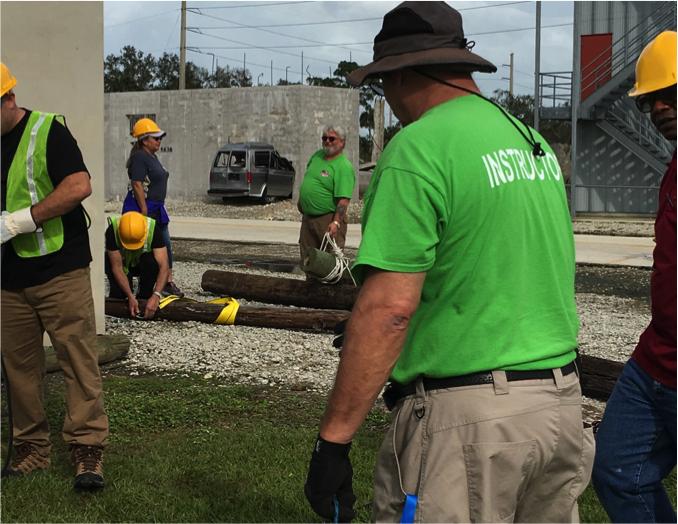 In January of 2018 Talon/LPE's Safety Director, Sandy Jefferson was presented with a training opportunity to attend the "Disaster Site Response Institute for Trainers." The course was held at Indian River State College – Treasure Coast Public Safety Training Complex in Fort Pierce, FL.
As part of the program, OSHA's Disaster Site Worker Outreach Training Program provided training to attendees, so they in turn can provide training to skilled support (e.g. utility, demolition, debris removal, or heavy equipment operation) or clean-up and remediation service personnel in response to natural and/or man-made disasters. The purpose is to ensure all workers at disaster sites have the information to be aware of the unique differences between disaster worksites and standard construction or demolition job sites. Responders to these emergencies must be able to identify the hazards associated with disaster site work. They must be able to wear, inspect, don and doff (put on and take off) the appropriate protective equipment including air-purifying respirators to protect against those hazards identified.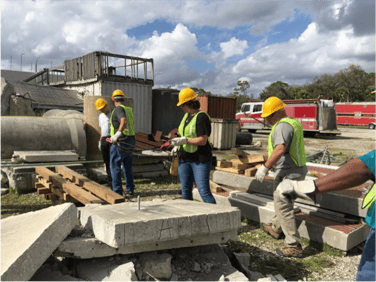 This program stressed the responsibility for the safety of responders, those impacted by the disaster, and the nation as a whole. Participants were prepared by the program to obtain safety training authorizations for public and private disaster site responders and workers. Attendees prepared for disaster response in a "city" where multiple disasters were simulated: flooding, earthquakes, tornados, meth lab contamination and building collapse. Then, multiple responses were initiated by the attendees.
Once the Disaster Site Worker training is complete those certified can work with disaster relief programs or with contractors to provide services following a disaster event. While the current requirements do not mandate annual refreshers, recurrent training will keep responders informed of any new information associated with response. Other certifications may also be required to respond, such as HAZWOPER-Hazardous Waste Site Worker and Emergency Response, and First Aid/CPR/AED, both of which do require recurring recertification.
Talon/LPE is proud to present "Disaster Site Response" training to new and current clients. Our safety team is trained and highly qualified to help you with your Disaster Site Response training. Contact us using the button below for more information.